Today's highlights
Virtue--a secret weapon for conservative policy
The Rise of the" China Economic Threat" Theory
Where to search for wisdom for the Taiwan Problem?
The Problems of China's USA Policy

The information age: benefits and costs for the Chinese government
links
FieldworkChina
is the website of China Policy Consulting Group. China Policy Consulting Group is the leader of information and research provider on China's government policy and decision-making. Our purpose is to present readers a comprehensive view of economics, politics, and society in contemporary China and Taiwan...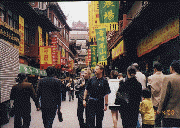 Chenghuangmiao,Shanghai, China. Copyright © 2000 FieldworkChina.
Get Headlines:
Reports or articles are available to the members of FieldworkChina. If you are a registered member, please log in to access our database. If you have not registered as a member, please go to member registration.

China's space shuttle, launched in January 10, 2001. Source: Sina.com
The Old Regime and New Democracy: Is there a third way for China?
How can China move to a new democracy by reforming its current political system? This is a project outline. (exclusive)
Please go to our Poll Center to vote and view the result. Please send us an email at fieldworkchina@aol.com if you have any comment. Your comment is greatly appreciated.
Civil Society, Social Movement, and Democratizaiton at the Both Sides of the Taiwan Strait
Date: April 2001
Zheng Yongnian & Lai Hongyi
On January 11, 2001, Jiang Zemin highlighted the concept of "rule by virtue", stressing that the Chinese Communist Party (CCP) had to govern the country by combining the rule of law with the rule by virtue. ...
What's behind the power succession in China?
Hosted by Yongnian Zheng